October 2021 | Louisville Real Estate
Posted by Chelsea Collard on Monday, October 18, 2021 at 1:00 PM
By Chelsea Collard / October 18, 2021
Comment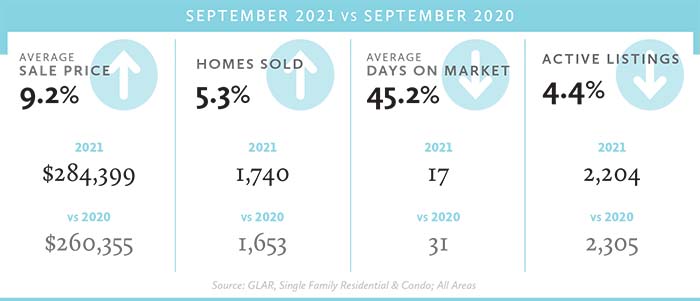 It's recently been reported that the U.S. Justice Department is investigating the cost of real estate commissions. This is among the topics covered in the September 20th Wall Street Journal article: "Real Estate Agents Gear Up for Fight to Save Their Commissions".
What's often lost in the provocative headlines of these stories are the specifics of how real estate commissions are divided among brokers, the economics of operating a real estate business as a broker and an independent contractor real estate agent, and the value of having professional representation as both a real estate seller and buyer.
Let's start with the basic economics of real estate commissions and dissect a 6% commission on the sale of a $300,000 home. $18,000 is not an insignificant amount of money. But let's take a closer look at where that money goes as I think there's a misconception implicit in these investigations that: 1) real estate agents make too much money 2) they don't provide much value.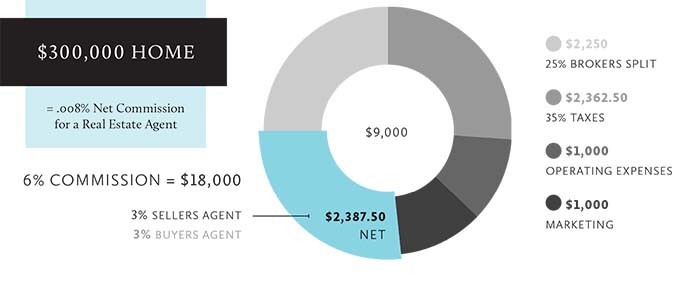 In most real estate transactions, there are two real estate brokers and agents (one representing the seller and one the buyer). Typically, the brokers split the total commission, so in the 6% example above each broker would receive 3% or $9,000. Remember, for a real estate agent to be paid anything they have to get results for their client (i.e., sell a property for a price and under terms that the client agrees with). In nearly all residential transactions real estate agents assume 100% of the risk of their time and any direct investments they make to help a client sell or buy a property.
Real estate agents are licensed to practice in each state in which they work. They must place their licenses with a broker who ensures agents comply with local, state and federal laws as well as follow ethics guidelines. Most brokers provide office space (and computers, printers, copiers, paper, signs, etc.); administrative and marketing support; ongoing training and development; and cover the cost of management who answer agents questions and help them navigate the inevitable problems and conflicts that arise in complex, often emotional transactions.
Let's say that to cover the broker's overhead and profit the cost is 25% of the total commission, or in this example $2,250 of the $9,000. That leaves the real estate agent with $6,750.
Most real estate agents are independent contractors which means they are responsible for paying their own self-employment taxes (Social Security and Medicare), as well as federal, state and local income taxes. Generally, this means an agent can expect to pay about 35 cents of every dollar they make in taxes. In our example, 35% would be $2,362.50 leaving the agent with an income after taxes of $4,387.50. Still not a bad payday, right? Well, as in every business there are expenses associated with generating revenue. Real estate agents need a car to get to appointments and show property and that car likely requires a monthly payment as well as expenses in the form of insurance, gas and maintenance. Agents also have recurring expenses like Board of Realtor dues and Errors & Omissions insurance. Let's assign these operating expenses a ballpark cost of $1000 a month leaving an agent with $3,387.50.
As a listing agent there are many costs associated with properly marketing a home. Good agents typically have a property measured to generate a floor plan, sometimes have a property staged, have professional photographs and a 3-D tour or videos done, place ads online and in print publications and make sure the property shows up on the Multiple Listing Service (MLS) and on websites like Zillow and Realtor.com. Let's say this direct investment from the agent is another $1,000 to start (keeping in mind if the property doesn't sell for 6 months the agent will be expected to continue paying to market it, not to mention spending money on gas to show it and the accruing cost of the agents time).
So, from the original commission of $9,000 the agent is left with $2,387.50. $2,387.50 divided by the purchase price of $300,000 is .008% (a commission of less than 1% to the listing agent).
A similar scenario plays out on the real estate buyer's agent side of the financial ledger.
One primary criticism about the current 6% total commission model that many sellers pay is that buyer's agents are overpaid (and unnecessarily increase the price of a property) because with the advent of websites like Zillow consumers are less reliant on buyer's real estate agents to "find" them properties to purchase. Keep in mind, in a tight market with little inventory (such as most of the country is currently experiencing), a good real estate agent will find houses to show you that are not even on the market yet and it's practically impossible to put a price on that.
Technology can indeed be a wonderful tool and there is no question that real estate consumers have access to much more information than they did a decade ago (including tax assessment data and what other homes in a neighborhood have sold for). Real estate buyers also see beautiful photos and videos (paid for by listing agents) of thousands of properties with a few clicks.
Very few buyers, however, are going to plop down $300,000 for a house they have not visited at least once if not multiple times. Despite the fervent wish of real estate tech leaders, houses are not like a pair of shoes that Zappos will gladly take back and then reimburse you for shipping.
So, yes, you may "find" a house on the Internet but you're most likely going to want a real estate agent to show it to you and help you navigate the purchase. Some critics of the 6% commission say that buyers should pay their own agents (which I believe is a likely scenario in the next few years). That may be an option for some buyers, but first-time buyers or others on a tight budget will have a hard time coming up with the cash to do so even though they deserve the same level of professional representation as sellers including:
Assessing the list price of the home based on other comparable sales in the neighborhood
Identifying any potential concerns about the property or neighborhood that could negatively impact value (E.g., Is the home made of synthetic stucco which has proven to have significant moisture problems? Is the property in a floodplain and does that require special homeowner's insurance?)
Preparing an offer and all associated paperwork that helps you get the property under contract (no small feat in a seller's market that most of the country is currently experiencing where a single home can have as many as 15 offers).
Protecting your interests in the sales contract with well-considered contingencies (such as inspections, appraisals and/or financing).
Serving as a communication buffer between you and the seller.
Navigating any issues that arise as a result of these contingencies (What if the roof needs replacing? What if the property appraises for $20,000 less than you've offered?)
Recommending competent, trustworthy vendors such as inspectors, mortgage lenders, contractors, etc.
Coordinating with the title company or closing attorney to ensure that your interests are protected and that the deed correctly transfers the property to you
So, in closing, is a 6% commission too much to pay? What's lost in most of the examinations of real estate commissions is the VALUE and overall EXPERIENCE the agent provides for that compensation.
I absolutely believe that real estate commissions should be negotiable from an anti-trust standpoint, but they should also be negotiable because there is a huge skill, knowledge and professionalism gap between good and bad agents. In my experience there are many real estate agents who are any combination of unprofessional, uncommunicative, ill-prepared, uneducated, unethical and/or lazy. Do I think those agents deserve 3%? In most cases, no.
On the flip side, there are many real estate agents who are hard-working consummate professionals, treat their clients and other agents with the utmost respect, go above and beyond to earn additional industry credentials and constantly enhance their knowledge and skills, and may have accumulated 20 years of experience and wisdom. Do these outstanding agents deserve the 3% that the bad agents receive? At the very least they do.
I would argue that knowledgeable, professional, ethical, hard-working real estate agents – like those I'm fortunate to work with at Kentucky Select Properties – are worth every penny of that 3%. And that's one case I'm more than happy to make to the Justice Department.