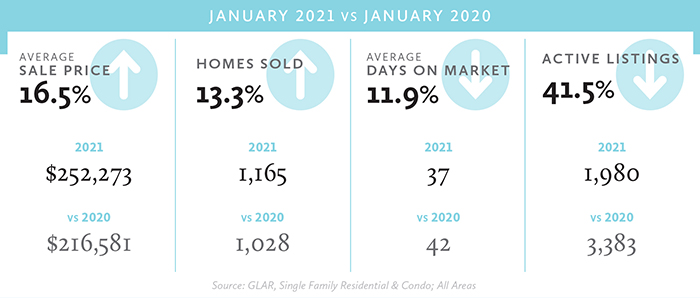 If this sentence were a new house listing it would be gone before you could finish reading it.
That's not an exaggeration. In the Louisville market, and throughout most of the country, we are experiencing the most acute shortage of housing inventory since anyone can remember (and certainly since anyone started to track it).
According to real estate data firm Altos Research, as of February 8, the number of active single-family homes for sale in the United States stood at 355,000. For context, just five years ago in January 2016, that number was 943,429. That's 62% LESS inventory.
In Louisville, there were 1,980 active listings on the market as of January 15 compared to 3,383 on January 15, 2020. This represents a decrease of 41.5%.
At 38% of total home buyers, Millennials and other young adults made up the largest share of purchasers in 2020. That demand trend should continue this year. As, according to the Washington Post, should the trends of buyers who delayed purchasing homes because of the pandemic; from existing homeowners who need larger spaces to accommodate parents working from home and children attending...