February 2021 | Louisville Real Estate
Posted by Chelsea Collard on Monday, February 15, 2021 at 9:00 AM
By Chelsea Collard / February 15, 2021
Comment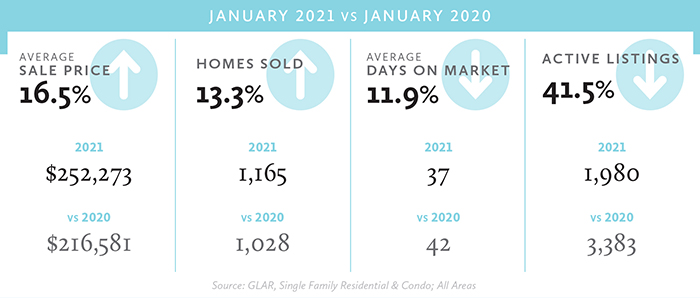 If this sentence were a new house listing it would be gone before you could finish reading it.
That's not an exaggeration. In the Louisville market, and throughout most of the country, we are experiencing the most acute shortage of housing inventory since anyone can remember (and certainly since anyone started to track it).
According to real estate data firm Altos Research, as of February 8, the number of active single-family homes for sale in the United States stood at 355,000. For context, just five years ago in January 2016, that number was 943,429. That's 62% LESS inventory.
In Louisville, there were 1,980 active listings on the market as of January 15 compared to 3,383 on January 15, 2020. This represents a decrease of 41.5%.
At 38% of total home buyers, Millennials and other young adults made up the largest share of purchasers in 2020. That demand trend should continue this year. As, according to the Washington Post, should the trends of buyers who delayed purchasing homes because of the pandemic; from existing homeowners who need larger spaces to accommodate parents working from home and children attending school virtually; and from condo owners who are seeking to escape multifamily buildings for single-family houses to mitigate exposure to the virus.
But as I've already stated, the demand is not the problem, it's the supply.
This is a bit of a "perfect storm" seller's market that we're experiencing:
Historically low inventory

Historically high demand (particularly in lower price ranges favored by first-time buyers)

Historically low mortgage rates (which is giving buyers more purchasing power and fueling bidding wars)
What this means is that it's a very challenging and often frustrating time to be a home buyer and a buyer's real estate agent. When a house actually goes on the market, it's not unusual for there to be a tornado of showing activity and multiple offers the first day (frequently over the asking price, sometimes for cash – i.e., no mortgage loan – and increasingly waiving normal contingencies and buyer protections like home inspections).
In just the past couple of weeks here is a snapshot of sale scenarios involving Kentucky Select agents:
Home listed in the low $300,000's - 54 showings and 22 offers | sells well over list price

Home listed in the high $300,000's - 52 showings and 7 offers | sells well over list price

Home listed in the high $500,000's - multiple showings and offers | under contract for $100,000 more than list price

Home listed at $175,000 - 35 showings and 14 offers | sells over list price
There is considerable speculation that warmer weather and widespread COVID immunity will hasten the number of houses coming onto the market. The million-dollar question is whether there will be enough supply to meet the record demand by new buyers and free up less expensive inventory for equity-rich sellers who want to downsize to a smaller property (where they will find themselves competing with first-time buyers) or simply cash out and start renting.
Stay tuned, it's going to be a very interesting year!
by: JAY GULICK Managing Broker + Partner