Easy Ways To Enhance Your Home's Exterior
Posted by Jay Gulick on Thursday, September 14, 2017 at 10:14 AM
By Jay Gulick / September 14, 2017
Comment
Many homeowners put a great deal of time into designing the inside of their houses to appear welcoming, charming, and comfortable. There is no end to the amount of decor and design ideas out there, and this surplus of resources makes it easy to create your home to be an extension of your personality. Whether you want a laid back bohemian sort of vibe or a sophisticated and classic one, you can create your living space to be exactly what you desire.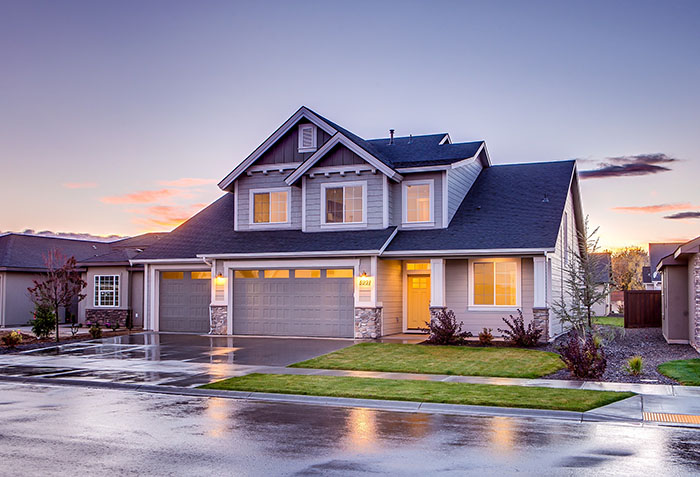 The same rings true for the exterior of your home, and because this is what visitors and onlookers see first, it's important to not overlook this part of the design process. Besides creating a strong first impression, dressing up the outside view of your house can help add curb appeal, therefore helping your home increase in value.
If you're looking for a few simple ways to enhance your home's exterior, here are a few easy ideas to help you get started:
Add Focus to Your Windows
If eyes are the windows of the soul, then windows are the eyes of your home. They provide a glimpse of your private life to the outside world, and likewise, they allow you to peek out at the great big world when you don't feel like jumping all of the way in.
By adding more detail to your windows, you can immediately create an eye-catching element to your home, and there are many ways to do this successfully.
Window awnings come in all different styles and colors, so you can easily find a match for your personal taste. They help keep your home shaded and protected from strong sunlight, and they can help reduce your cooling costs in the summer. They add an element of refinement to an otherwise ordinary window, making them a perfect balance of style and practicality.

Window boxes instantly add an element of charm and warmth to your home, especially if you have vibrant plants poking out of them. They come in many different styles and colors, so it should be no problem finding the right one that will accent your home.

Shutters have a classic feel about them, and they can instantly invoke a sense of dignity.
Gardens Add a Lively Appearance
Everyone knows that keeping a well-maintained lawn is critical when it comes to making your home exterior look sharp, as dull grass and overgrown weeds give the impression that your yard is neglected and untended.
That being said, if you're really trying to add a wow-factor to your yard, it's important to do more than simply mow and water the grass. By planting a garden and adding a fountain and/or birdfeeder to your yard, your lawn will come alive with color and exuberance.
Whether you want to plant a simple bed of flowers or go all out and start growing fresh vegetables, an area of your yard that's dedicated to flourishing life will instantly draw attention and curiosity to your home.
Keep Paint Looking Sharp
Flaking, dry, and faded paint is an easy way to attract the wrong kind of awareness to your home. Keeping your home freshly painted in a modern color is one of the most effective ways to maintain a sleek exterior, and if you want to go one step forward and create an effect that truly pops, you can do this by adding a trim to your home and painting your doorway a striking color.
Because you can choose from muted tones, neutral shades, and energetic, vibrant hues, it can be difficult to know which colors complement each other, so instead of simply winging it, you might want to brush up on some color theory basics. This way, you'll have a better understanding of what subtle message your color scheme will present to the world.
Create a Sleek Sitting Area
If your front porch and patio currently boast a setup of random pieces of furniture, you may want to rethink your whole approach to your outdoor sitting area. Having a wooden patio table surrounded by a slew of plastic chairs that clash gives an impression of chaos and disorder. Your outdoor area should be easy on the eyes and create a sense of harmony and relaxation, so try to look for pieces that blend well together and create an ambiance that's consistent with the rest of your outdoor space.
If you're looking for a budget-friendly way to do this, you can always repaint the outdoor furniture you do have and look for DIY tutorials online, such as this one, that will help you add or replace fabric or upholstery.
An easy way to add a polished element to your outdoor area is to add a fireplace, as there is something magical about being able to sit outside in the warmth and light of the flickering flames when the sun goes down.
Lights Add An Element of Luxury
You don't have to stick to standard old porch lights; there are many different lighting options to choose from that will illuminate your home in a beautiful manner. Here are a few popular options:
Chandeliers

Outdoor table lanterns

Tree lanterns

Pathway/walkway lights

String lights
Lighting can create an openness and a certain level of warmth, and when your home is lit up in the darkness, the luminescent contrast against the night sky can be whimsical and inspiring.
There You Have It
As you can see, elevating your exterior doesn't have to be a huge, expensive process. There are many small actions you can take that will make a huge impact on your outdoor aura. It really comes down to deciding what kind of environment you wish to create and being intentional with the resources that you have available to you. Hopefully this article gives you a few ideas to get your creative juices flowing--the sky's the limit with what you can do.
Let us know in the comments below how you spruce up the outside of your home!