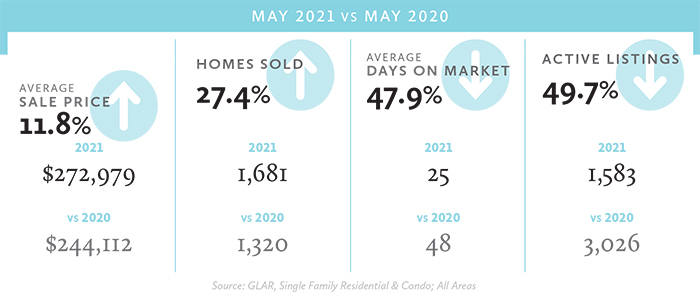 On the Thursday prior to the Memorial Day holiday weekend, I listed a ridiculously cute 3 bedroom, 2 bathroom home in Crescent Hill for $295,000. Over the next three days there were 42 showings of the property. And by Monday when I sat down with my seller clients they had 12 offers to review, all of them for more than the asking price and several significantly so.
Scenes like this are playing out all over Louisville nearly every day as a large number of buyers, armed with historically low mortgage rates, are battling over an anemic number of available houses for sale. I've heard chatter from many agents in our office and those in other brokerages that they feel like "everything is overpriced". I've also heard a lot of speculation that at some point there will be a significant market correction leaving us with lots of overpriced homes to sell a few years down the road. Of course, no one knows for certain what the future holds and whether today's prices reflect a truly overvalued market or are simply establishing a new baseline for real estate prices in Louisville.
Two lucky agents and their clients won the bidding war for my Crescent Hill listing. Which means I had the unenviable task of calling the other 11 agents to thank them for their hard work and let them know their clients did not get the house.
While commiserating on the phone with one of these deflated agents, I blurted out that this was the 'craziest damn market I'd seen in the 27 years...